Attention: Water Districts
Do you have coverage "leaks" in your current insurance policy? You may be missing out on benefits and protection.
Let us help find any "leaks" in your coverage- We can find them and help you patch them up!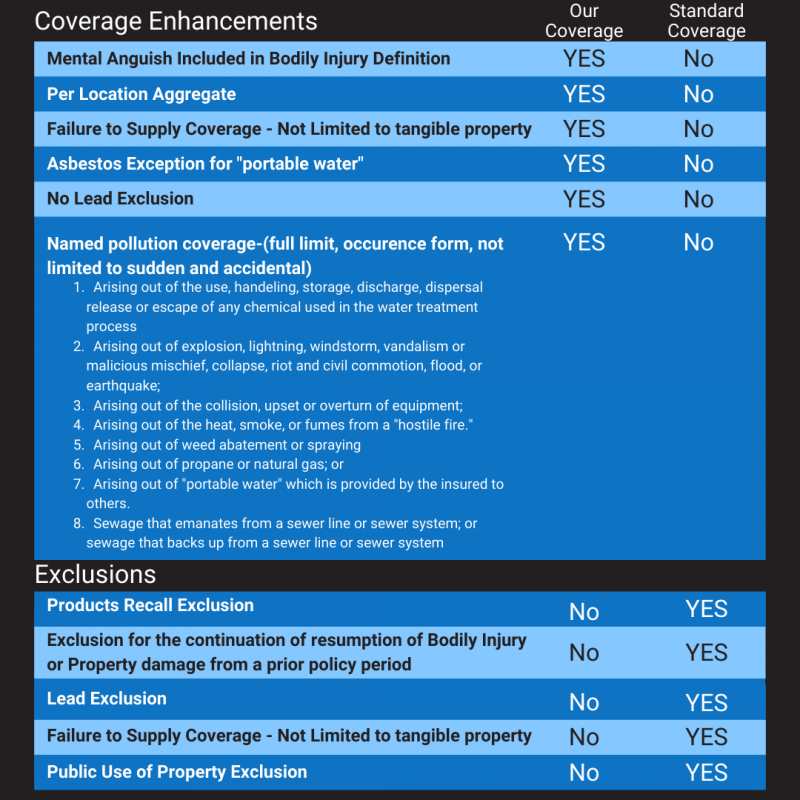 Get great protection from a company you can trust.
We have exceptional coverage enhancements as shown in the chart to the left.
Available coverages are property, inland marine, crime, general liability, wrongful acts, employment practices liability, auto and excess. Take advantage of combining all these coverages into a package and save money.
If you do not fully understand these various coverages or have any concerns, you should have us provide a quote to learn more about what we offer through Bray & Oakley Insurance.
Eligible Classes for Water District and Water-Related Entities Including:
Fresh Water Supply Districts (FWSD)
Water Improvement Districts (WID)
Navigation Districts (ND)
Special Utility District (SUD)
River Authority (RA)
Natural Resource District (NRD)
Water Treatment Districts
Sewage Districts
Metro Districts
Private and Mutual Water Companies
Water Utilities
Irrigation Districts
Drainage and Ditch Districts
Reclamation Districts
Municipal Utility District (MUD)
Levee Districts
Water Control or Improvement Districts
(WCID)
Groundwater Conservation District (GCD)
Need a quote? Download our checklist and fill in the applicable application below!
Next, fill out the application that best suits your needs. Send the application and all documents from the checklist to mail@brayandoakley.com for a personalized quote.
Contact Bray & Oakley Today!
You need insurance for your Public Service District that you can depend upon. When you choose Bray & Oakley Insurance Agency, you are getting a helpful and knowledgeable partner dedicated to providing quality protection with competitive value pricing. We wish to establish a long-term, successful partnership with our clients, our staff members and the insurance companies.
Our Agents and our helpful Service People are available to talk with you about the insurance needs for your public service district. As an Independent Insurance Agency, we represent several insurance companies. We shop around for you. We compare prices and coverages and then customize the coverages just for you. Give us a call today to learn about what insurance coverage options may be right for you.