Top 3 Personal Insurance Policies for Any Policyholder
How to Get the Most Out of Your Coverage
Personal insurance is an insurance contract between the insurer and the policyholder. In this contract, the insurer promises to pay an agreed amount upon proof of certain events or occurrences. These incidents may include illness, injury, loss of life, property damage, or other specific events. 
The goal of personal insurance policies is to protect an individual's primary financial assets. However, some products tend to be overlooked when a person does not seek the help of an experienced insurance agent, which is necessary to ensure financial protection.
Most experts recommend getting insurance coverage based on needs and risk factors. Insurance agencies in West Virginia and Kentucky have a wide array of insurance carriers that offer multiple insurance products and services to their customers. 
For example, if you have dependents you care for at home, then life insurance can help ease the financial burden of your child's college tuition costs if you pass away unexpectedly. An experienced insurance agent can help you determine how much you're willing to pay for life insurance, what is covered under the policy, and what insurance carrier you should obtain the policy from.
Here at Bray & Oakley Insurance Agency, we recommend that all policyholders look into three types of personal insurance policies: life insurance, home insurance, and auto insurance. These three coverages help to ensure that you and your loved ones are covered in the case of an unexpected event.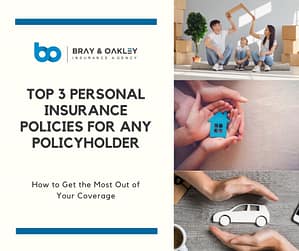 Do you know how to get the most out of these three insurance policies? Read below to learn more about life, home, and auto insurance.
Life Insurance
Life insurance is insurance coverage that pays a designated beneficiary when the insured person dies. The purpose of life insurance is to help policyholders' families pay for final expenses and some other financial responsibilities they may be responsible for, such as settling debts. Life insurance can be divided into three categories: term life insurance, whole life insurance, and universal life insurance. These types of policies are meant to provide coverage during the different stages of a policyholder's life.
Term life insurance is the most common type of life insurance in the industry today; it can be written for a period of 10, 15, 20, or 30 years. During this specific period of time, the policyholder pays premiums. In the event of the policyholder's death, the beneficiaries will receive the pay-out. 
Whole life insurance policies are designed so that the insurance company pays a guaranteed minimum interest rate on the cash value within the insurance policy every year until the insured person passes away.
Universal life insurance provides protection that is similar to whole life insurance but is more flexible in allowing a policyholder to make changes in premiums and coverage.
The first step in deciding on a life insurance plan involves figuring out how much insurance coverage you need. Different insurance carriers offer variations of insurance protection, and each company can vary with its price points. You will want to consult with an insurance agency that specializes in this type of coverage to determine which life insurance policy works best for you.
Home Insurance
Home insurance protects a policyholder's home and other structures on his or her property from various risks. Home insurance can protect against wind damage, fire, theft, vandalism, and other common risks that homeowners could face unexpectedly any day.
There are multiple parts of home insurance that you should consider. These coverages include:
Dwelling Coverage

– insurance to help you repair your home after an unforeseen covered incident. 
Personal Property Insurance

– often called "Contents Insurance," this type of coverage protects your furniture, clothing, and other belongings.
Personal Liability Insurance

– designed to assist you in filing a claim due to bodily injury or property damage caused to others by you.
Other Structures Insurance

– coverage for additional structures that are detached from your home, like a shed, barn, garage, and more.
Loss of Use Coverage

– helps to pay for living expenses if you are unable to live in your home after a covered incident.
No one wants to think about their home burning down or being robbed, but it is important to ensure that your belongings, home, and loved ones are protected from the unknown. That's why most insurance agencies in West Virginia and Kentucky recommend purchasing insurance protection based on the replacement cost of the personal belongings that you have if an unexpected event was to occur. This means that if something were to happen, you wouldn't have to worry about paying out of pocket for damages or replacing items.  
Auto Insurance
If you drive a car, you need to get auto insurance no matter how old you are or what type of vehicle you drive. Most states require auto insurance, so it's something everyone should have anyway. Besides helping you drive legally (without carrying car insurance, you could lose your license), auto insurance protects you and the other party if you're involved in an accident, so it's crucial to obtain this type of insurance. 
Auto insurance is usually sold as a package deal, including several types of insurance plans, like collision protection. Collision protection covers damages when you hit another vehicle or object while driving. Other types of car insurance plans include comprehensive coverage, which covers damages caused by natural disasters (acts of God), fire or theft, and liability insurance, which covers injuries to other people or their property in an accident that you were responsible for. 
In addition to collision protection and comprehensive coverage, you should look into the following options as well:
Bodily Injury Coverage

– helps to pay for injuries to others who were not riding with you in your vehicle at the time of a crash that was said to be caused by you.
Property Damage Coverage

– assists in covering the damages to another person's property, such as vehicles or buildings that may have been impacted by your accident.
Medical Payments Coverage

– helps with the hospital bills for those injured while riding with you in your vehicle.
Personal Injury Protection (PIP) Coverage

– like medical payments coverage, PIP helps to cover the medical expenses of those injured in your vehicle, regardless if it was your fault or not.
Uninsured Motorist & Underinsured Motorist Coverage (UM & UIM)

– protects you and the people who are injured in your vehicle crash caused by another driver who does not have or does not have enough auto insurance coverage. 
It's vital to carry not only auto insurance but to also choose the proper level of coverage.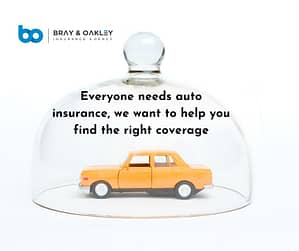 Opting for minimum liability limits means you'll pay less each month but you could end up paying much more in the end. Plus, you want to ensure that all drivers and passengers are protected while driving or riding in your vehicle. Overall, it is much better to be sufficiently covered than underinsured or not covered at all, especially if you are not the only driver on your policy or plan to have loved ones as your passengers, such as your children. Talk with your insurance agent about all plans available to see how you can cover you and those you love at the best price point for you; they may have discounts and options you are unaware of depending on your needs and budget, so be sure to tell them all of your insurance concerns.  
What to Know About Insurance Premiums
Insurance companies deploy statistical analysis to determine car insurance premiums. This type of analysis gives a fair way of assessing risk and determining insurance premium amounts for their policyholders. For example, drivers under 25-years-old are more likely to be involved in accidents than drivers over 25-years-old, so insurance premiums differ from policy to policy and usually increase as the policyholder gets older.
Insurance helps protect your belongings in a variety of ways. Having insurance on your car, home, and other valuable possessions is a good idea for everyone, even if you don't think it's possible that something could happen to you.
Insurance agents, like those here at Bray & Oakley Insurance Agency, are here to help customers determine which insurance policy is right for them. We're proud to say that we've been in the insurance industry since 1920. We love helping our customers save time, money, and energy when looking for insurance by shopping the top insurance carriers like Erie, Nationwide, Allstate, Westfield, Safeco, Travelers, Hartford, and many others. Nothing is more important than helping keep our customers and their loved ones safe and protected.
Contact Your Independent Insurance Agency
Need a quote on any of the personal line insurance policies we've mentioned above? We're happy to help! With several offices located throughout West Virginia and Kentucky, Bray & Oakley is your one-stop shop for all things insurance.
Get a quote today by filling out our simple online form, and one of our representatives will get back to you as soon as possible. If you have any other questions regarding personal line insurance or other types of insurance policies, feel free to contact us at 1-800-353-9517.