3 Things You Must Know Before You Buy 
Home insurance, sometimes referred to as homeowners insurance, is a standard insurance policy that all homeowners should buy to protect their homes and belongings in the event of damages or theft. Most insurance companies require that a borrower purchase home insurance before agreeing to hand them a loan and will not do so without proof that a policy was obtained.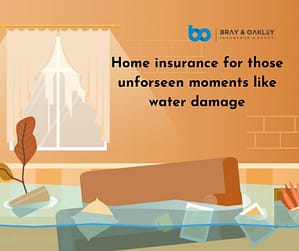 This article breaks down exactly what homeowners insurance is, what it covers, and all you need to know before purchasing a policy. 
Why do I need home insurance? 
Your family needs protection from financial loss in case something unforeseeable happens to your home. It doesn't matter how much money you have saved – if the house is gone, it's gone! Home insurance can help to rebuild your home and replace belongings if they're damaged or destroyed by covered perils.
What does homeowners insurance cover?
A home insurance policy covers the damage done to an owner's interior or exterior structures caused by an unexpected event like a fallen tree, natural disaster, or criminal act. 
Structures that are generally covered include fences, retaining walls, patios, garages, appliances, swing sets, storage sheds, clothing, furniture, and other possessions inside or outside of the home. 
Other common insurance coverages include:
Dwelling Coverage

: Insurance that helps you to restore your home after an unfortunate event.

Personal Liability

: Designed to assist you in filing a lawsuit due to bodily injury or property damage to others that were caused by you.

Loss of Use

: Coverage to help cover additional living expenses if you can no longer live in your home due to its loss.
It's worth mentioning that most standard home insurance policies do not cover damages caused by floods or earthquakes. These coverages are typically available separately, so if you live in a flood zone or are in an area prone to earthquakes, consider these policies when looking into the coverages to best fit your needs.
How do I get homeowners insurance?
Insurance carriers offer homeowners insurance policies that provide different levels of coverage, so be sure you understand what you're purchasing before you buy. Don't be afraid to ask your insurance agent any insurance questions that you may have – that's what they're there for!
Most insurance companies use replacement cost value (RCV) to determine how much they're willing to pay if there's damage or loss of any kind to your home; this is not the same as how much it would cost to repair or replace damaged items. Your insurance company will pay the cost to restore your home and its contents to their condition at the time of loss.
Other insurance companies use market value, which is the amount they would expect to receive by selling all of your damaged or destroyed property at today's prices. If you have replacement cost insurance, you'll likely be able to replace your personal property with nearly new items if your insurance company uses this method for determining what it will pay. Remember that some types of property are difficult or impossible to find used, so they may not offer much help if you have a pipe burst or other covered disaster.
Many insurance companies prefer to walk through your home with you to assess what's on the premises before writing you an insurance policy. Some will even give discounts for specific types of safety equipment or security devices installed on your property. 
How do I find an insurance agent?
To find an insurance agent or broker, check with your state insurance commissioner's office, local bank, or credit union for recommendations on carriers that offer homeowners insurance in your area. Your real estate agent might also know which insurance agencies sell policies through the company that they represent. You can always call an insurance agency directly to see if they offer coverage in your area and what kind of discounts and/or endorsements they offer on homeowner insurance policies. 
Ready to review your current homeowner's insurance policy?
After you've decided which insurance company and agent or broker you want to handle your insurance needs, it's a good idea to review your insurance policies at least once a year. You might also ask about additional or higher levels of coverage for personal property replacement if that's important to you.
An experienced insurance agent should be able to answer your questions about how your policy works and how it might affect you in case of a loss. If you don't understand something, ask for clarification and get it in writing.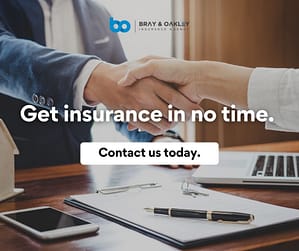 Here at Bray & Oakley Insurance Agency, we understand that insurance coverage can be confusing – but it doesn't have to be! With the right policy and coverage guidance, as well as available help when you need it, you can be sure that your home and possessions are adequately covered. Our agents will treat you like family and continuously shop the top insurance carriers to ensure that you have the best policy available. 
Don't stay in the dark trying to find the home insurance policy that's right for you – Contact us today for a quote!