Who Has the Cheapest Auto Insurance Quotes in Kentucky?
Anyone who drives a car is familiar with the difficulties of car insurance. But as much as we all gripe about it, we all know how important it is. As essential as a seatbelt or a spare tire in the trunk, insurance is a layer of financial protection we all need when we take our place behind the wheel. 
However, are we rushing through the unpleasantness of picking out an insurance policy that we don't stop to consider whether or not its terms and conditions make sense for us personally?  
For instance, there are situations when insurance  premiums are raised, depending on a person's circumstances. Living and working in an area known for increased risk of crime, needing to regularly drive long  distances for work would drive your premium rates up.  
Smart buyers, however, know that auto insurance quotes and insurance rates vary from company to company, even within the category. One company may charge  $50 per month for basic liability insurance, while another may charge four times as much for the same thing.  
That's why one of the best practices when looking for the best deal for car insurance is to shop around, making a comparison of the different prices offered on different policies by local insurance companies. It might be time-consuming to do a thorough comparison, but believe that it's worth it and will ultimately yield the best price for your policy.

One of the companies that offer the best comprehensive coverage at an affordable price is Bray & Oakley Insurance Agency. If you live in the areas of Kentucky, Lexington, and Richmond, you can simply do a quick search for the company and find the nearest branch simply by looking for "affordable car insurance near me".   
Bray & Oakley takes pride in providing its clients with some of the lowest and most sensible  auto insurance rates in Kentucky, Lexington, and Richmond. That, coupled with detailed customer services and customized coverage that some other companies do not offer makes them a popular choice among the residents in the area.  
What is an auto insurance quote? 
Before you do an inquiry about what policies and coverages you should be looking into for your vehicle, first you have to have a solid idea of what an auto insurance quote is.  To put it simply, a quote is an estimation of the amount you will pay monthly to ensure that your insurance policy remains in effect. 

The insurance company calculates this amount based on the information that you give them, including, but not limited to: your age, sex, driving history, what kind of vehicle you own, the annual mileage you incur, your occupation, and where you live. They may even ask about the condition of your vehicle, and sometimes even its market value comes into consideration.  
Each insurance company uses a specific set of rules to set the value of your premium.  A premium is the price you have to pay for your car insurance, and it's an amount that comes due every month. In addition to this, there might be other costs, all of which are broken down for you in your quote. 
Because each company uses a unique formula to arrive at the number for your premium, insurance quotes from two different companies will never be the same, and therefore it makes sense to get quotes from different companies. When you do this, you make sure that you are well informed and can select the most reasonable and affordable rate for your insurance coverage plan.

Include a good mix of companies, from established multinationals to local financial institutions which may be more familiar with your particular location. Make sure to include major players in local insurance, such as Bray & Oakley Insurance, known for the some of the cheapest insurance rates in Kentucky.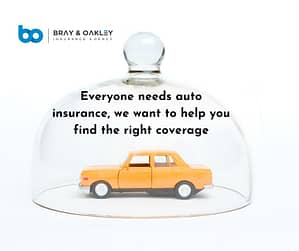 What are different types of insurance?
There are many types of auto insurance, each one created to meet different sets of circumstances. Here are some of the few major types: 

Comprehensive Insurance
Comprehensive insurance plans cover the cost of any damage to the vehicle from anything other than a collision. This could include theft, fire, hail, vandalism, or even random animal attacks. Because it covers the widest range of possible events, it is also the most expensive type of policy on our list.

It is important to note that unlike collision insurance, comprehensive policies aren't usually mandatory.

Collision Insurance
This is the most essential, and the most basic, type of auto insurance that you can get, and it covers any damage that your car can receive as the result of an accident involving another vehicle. This is the type of insurance anyone has to have if you want to drive a car in Kentucky and many other states of America. 
Liability car insurance
This auto insurance coverage is for the compensation of automobile injury claims against you. This is meant to cover any medical expenses and claims of individuals who were involved in an accident with you and your vehicle but who were not in your car at the moment of the accident. To claim this, however, they need to be able to prove that you were at fault.
Personal injury protection insurance 
This insurance coverage provides for the medical expenses of the policyholder following an unfortunate event involving their own vehicle, and this amount is paid out regardless of who is at fault, if anyone is in error at all. In some states, this kind of insurance is optional, but in Kentucky, it is a requirement.  
Underinsured/Uninsured Motorist Coverage
Uninsured or underinsured motorist coverage is also an extra layer of protection that you can opt to get when choosing what is included in your policy. This makes sure that you have options to receive money even when the person or vehicle at fault in an accident you are involved in (assuming that the person is not you) is not insured or if their insurance policy does not cover other people involved in an accident.  
How Bray & Oakley Insurance reduces your insurance cost
Bray & Oakley Insurance company offers its clients the means to select and create more affordable insurance plans using the following tactics. 
Utilize a bulk insurance discount
Insuring two or more vehicles with the same company will entitle you to a lower cost, and the more vehicles you take policies out on, the better.  Make sure to talk to the agent drawing up your policy to see if you qualify for a discount. In general, all the vehicles should be registered to the same address, or all the drivers or owners should share the same address.

This isn't something that is immediately available to everyone, so make sure that you bring the topic up with your potential provider. 
Take a defensive driving course
Insurance companies such as Bray and Oakley Auto Insurance offer a special discount for drivers who have taken a defensive driving course. 
When a driver can present proof of having taken a defensive driving course, it usually qualifies them for a car insurance discount, the percentage of which varies from state to state. This enables you to lower your monthly premium by anywhere from 5% – 10%. 
Aside from the outright benefit of paying less for your insurance policy, avoiding accidents by learning how to drive defensively has a huge bonus in the long run. Drivers who have been found to be at fault in a vehicular accident, even if it was just once, can expect to see a minimum of 30% increase in their premiums the following year.

If you have a teen, you can also send them to take the same course to offset the naturally higher premiums given to younger, less experienced drivers.   
Choose your new car models wisely 
It feels amazing to buy a big luxury expensive car. But these luxury models also come with a bloated insurance premium, much higher than that of a standard, low-cost car. Keep this fact in mind when buying a new car and choose your vehicle wisely to keep the insurance costs down.

It's also important to remember that certain insurance companies offer a discount on insurance premiums if you buy a hybrid or fuel-efficient car. Economizing your vehicle or buying an electric or alternate fuel car will not only make you feel more environmentally responsible, it will also help you cut down on insurance costs.  
Install anti-theft devices  
You can potentially lower your annual premium if you have an anti-theft device or tracker installed in your car. The anti-theft system alone can help you save 25% on insurance costs each year.

Bray and Oakley Auto Insurance not only offers discounts but also gives its clients information on which devices qualify your vehicle for lower insurance premiums. Not all anti-theft systems will entitle your vehicle for the discount, so before buying and installing one, be sure to consult with your insurance provider.

Maintain a good driving record
Many insurance companies consider your driving record as well as your credit rating during the estimation of insurance costs. It makes sense that a careful driver would have lower premiums than a reckless one that risks accidents which could cost the insurance company a lot of money. In fact, your driving record may carry more weight with some companies such as Bray and Oakley Auto Insurance which do not consider a potential policy holder's credit ratings when determining their insurance quote. 
Frequently asked questions
You probably have a lot of questions about auto insurance. Let us help you cover the basics before you start collecting quotes from insurance agencies. 
What is full coverage and how much does it cover?
A full coverage insurance plan includes more comprehensive coverage, upgraded collision protection, and better coverage for accidents as compared to the basic level auto insurance plans. It also offers coverage for uninsured motorists traveling in your car at the time of the accident and also medical protection.
Is it mandatory to get a full auto insurance plan?
It depends upon the financial situation of the vehicle. If you have a car loan you need to have a full coverage policy with collision and comprehensive protection. But if you do not have a car loan to pay or you have paid off the loan you can decide by yourself whether you want a full coverage policy or basic insurance coverage.
Do insurance companies provide a new car after an accident?
No, unfortunately, insurance companies are not responsible for providing you with a new vehicle if your insured vehicle is involved in an accident. If you are the cause of an accident, your full collision coverage will pay the cost of repairs. If your car is totaled in an accident, the payout will be the equivalent of the current market value for a new car, of the same make and model or as close as possible to it. However, if the cause of the accident is another driver then his liability coverage will pay for the repairs of your car and replace it if it cannot be repaired.
Who offers the cheapest auto insurance quotes near me?
We can recommend one insurance provider, Bray & Oakley Insurance Agency , which offers a wide array of affordable auto insurance policies to citizens in Kentucky.  
What is the average auto insurance cost in Kentucky?
The cost of basic insurance coverage in Kentucky is USD 85 to USD 90 per month or 1,030 dollars per annum. However, for the full coverage plan, you might have to pay USD 200 dollars a month and USD 2,400 annually. But at Bray & Oakley Insurance, you can get a fairly low rate for basic and full coverage with top-notch services.  
Why auto insurance is expensive in Kentucky?
Yes, it is true that in Kentucky car insurance is expensive. Kentucky ranks as the state with the seventh highest cost for auto insurance in the United States, and this might be partly due to  also being the state with the fourth highest number of deaths per mile traveled on road.  
Bottom line
Insurance rates deviate by hundreds of dollars every year. To look out for your interests, you need to choose a company with stable rates and a consistent record of good service. Moreover, the final verdict on purchasing your auto insurance comes down to more than just the insurance price. You also need to look for other factors like customer satisfaction, the reputation of the insurance company, how they respond to the complaints and provide insurance coverage for accidents. 
At Bray & Oakley Insurance Agency all these points are prioritized and kept in the first place during policymaking. Also, according to a recent analysis in the cities Kentucky, Lexington, and Richmond Bray and Oakley Insurance appeared to be the most reasonable in terms of insurance coverage and cheapest in terms of insurance quotes.