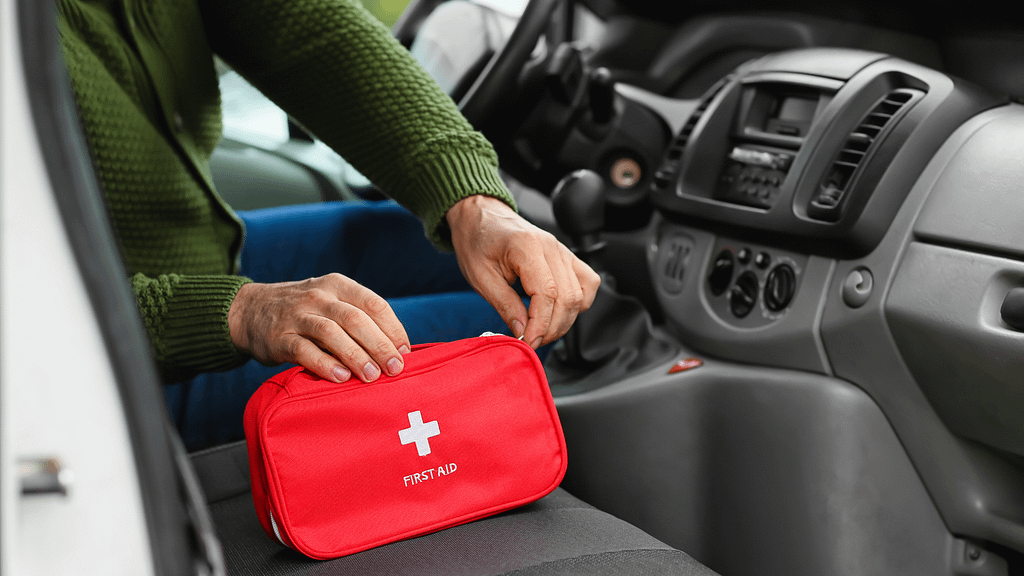 Creating an Emergency Car Kit
When you're out on the open road, anything can happen. That's why it's important to be prepared for any eventuality by having an emergency car kit. Your emergency car kit should be tailored to your specific needs, but there are some essential items that every kit should have. 
Common Car Emergencies You Want to Be Prepared For 
Weather emergencies:

Snow, ice, and extreme cold can all lead to car emergencies. Be sure to have a winter emergency kit in your car that includes items like a shovel, windshield scraper, extra clothes and blankets, and non-perishable food.

Dead battery and dead phone:

A dead battery is one of the most common car emergencies. Always keep a jumper cable or portable charger in your car so you can jump start your battery or charge your phone if needed.

Accident:

If you are involved in an accident, stay calm and call 911. Be sure to exchange insurance information with the other driver and get the contact information of any witnesses. Take photos of the damage to both vehicles if possible.

Run out of gas:

It is always a good idea to keep an extra gallon or two of gas in your trunk in case you run out of gas. This will help you get to the nearest gas station without having to call for a tow truck.

Breakdown:

If your car breaks down, try to move it off to the side of the road if possible. Then, call for a tow truck or roadside assistance. Be sure to have your membership information handy so you can give it to the tow truck driver when they arrive.
Essentials You Want In Your Emergency Car Kit 
There are a few essentials you want in your emergency car kit, including:
Flashlight

Reflective triangles

Local maps

A fully charged portable battery and power bank

Tools

Shovel

First aid kit

Portable radio

Cat litter

Ice scraper

Blanket

Water

Matches and items to start a small fire, if necessary

Non-perishable food
A flashlight is an essential for any car kit. You never know when you'll need to change a tire at night or check under the hood. A small but powerful flashlight is perfect for this. 
Reflective triangles are also a must-have. If you breakdown on the side of the road, these will help alert other drivers to your presence.
A fully charged portably battery and power bank is also crucial. This can come in handy for charging your phone or other devices in case you're stranded somewhere. 
Tools such as a shovel and first aid kit are always good to have on hand as well. And if you live in an area where it gets cold in the winter, be sure to include an ice scraper and blanket in your car kit.
Last but not least, don't forget to include water and some non-perishable food items like granola bars or nuts. These can help tide you over until help arrives or you can make it to your destination.
Keep Safety In Mind Should You Experience a Car Emergency
If you experience a car emergency, it is important to keep safety in mind. First, if you can, move your car to the side of the road and turn on your hazard lights. This will help other drivers see you and avoid hitting your car. If you are unable to move your car, stay inside with your seatbelt fastened and call for help.
If you must get out of your car for any reason, be sure to wear brightly colored clothing so that drivers can see you. Also, be careful when approaching or standing near traffic. Never try to cross a busy highway on foot. If possible, wait for law enforcement or a tow truck to arrive before getting out of your disabled vehicle.
Keep a Fully Stocked Emergency Car Kit with You At All Times
After a major disaster, first responders and power company crews will be busy helping those in the most need. Basic services such as police, fire, and medical assistance will also be stretched thin during a large-scale emergency. It's important to have an emergency car kit packed and ready to go in case you need to evacuate at a moment's notice. Places like Amazon and local auto parts stores have many different emergency kits available, making for ideal holiday gifts. 
If you have time, you can also include items like blankets, warm clothing, and a hand-warming packs. If you have young children, pack toys and games to keep them occupied. And don't forget your pets! Pack food, water, and an extra dose of any medications they require.